Netflix GLOW is back!! I'm watching Season 3 and it's slow and the first few episodes are short but I'm still loving it.  The clothes they wear are very 80's but of course 80's is the new fashion these days.  I'm sure I'll be seeing this on the streets sometime in the near future.  Of course left off from Season 2, we see Bash proposing to Rhonda "Britannica" Richardson.  SOOOOO in Season 3 we see them in a photo session.  The bride with all her GLOW friends in bridesmaid's outfits including Liberty Belle, Zoya the Destroya, She-Wolf, Machu Picchu, and her whole crew of friends.  Half were wearing pink and the other half were wearing gold swimsuits.  I love this, too bad there isn't a store that you can just buy all of GLOW's outfits!  Find the best GLOW Bridesmaids costume ideas here.  Click here to see more GLOW costumes.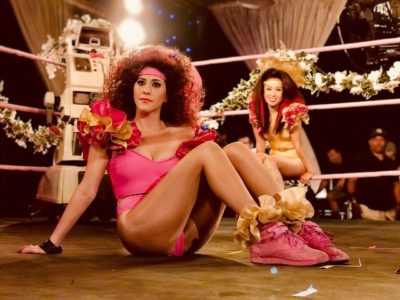 Netflix GLOW Bridesmaids Costume Ideas
GLOW Bridesmaids Pink Outfit

Dress up as the Gorgeous Ladies of Wrestling in their pink swimsuit outfit for the wedding of Britannica to Bash!

Click here to get Pink outfit for Adults.

GLOW Bridesmaids Gold Outft

You will look stunning in this gold swimsuit outfit along side your Britannica getting married!

Click here to get GLOW Gold Outfit Costume.

GLOW Bridesmaids Accessories

In the picture you can see the girls wearing pink swimsuits are pairing with gold accessories.  This gold scrunchie can go around your ankles!

Click here to get the GLOW Gold Accessories.

GLOW Bridesmaids Waistband

The pink outfits are paired with gold, so you can use this ribbon as a waistband.

Click here to get the GLOW Gold Accessories.

Pink Tule for Headbands

The pink outfits have beautiful ribboned headbands.  Too bad there aren't any for sale that I can find anywhere.  Hopefully you are crafty enough to use this tule and make your own.  It shouldn't be too hard right?  In the 80's everyone made everything themselves anyways.  Have fun and be creative!

Click here to get GLOW Bridesmaids Tule for Headbands.

Gold Tule for Headbands

The gold swimsuits wore gold coloured ribbon around their heads.   You can use this tule to complete your outfit.  You'll need to use some of your creative genes to get that bow onto a ribbon and tie it around your head.  Once the hardwork is done, you'll see that it was all worth it in the end.  Your outfit will look amazing.

Click here to get the GLOW Bridesmaids gold tule for headbands.

GLOW Bridesmaids Anklets

The gold outfits wore pink ribbons around their ankles.   This will look great with your outfit.

Click here to get Pink Scrunchie Ankle Accessory.